So when I snagged the Paula Deen recipe for snow cream, it said next recipe cinnamon rolls. I drooled. Literally. Had to wipe the puddle of drool of my laptop. I thought I could make them for the family, and my reward would be to just inhale the smell of the yummy ooey gooey bliss.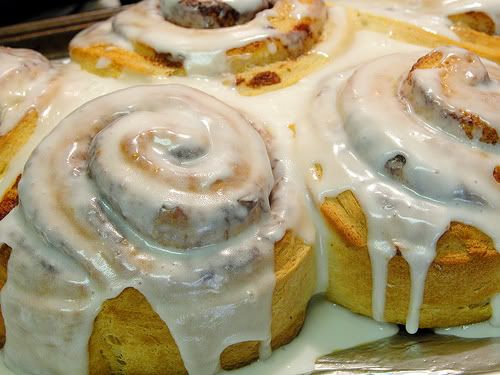 It wasnt meant to be though.... I have no yeast. How did this happen? Oh yeah, the low carb diet. I don't make bread anymore. *sigh* I was really looking forward to the smell.
Maybe tomorrow.
Saving the recipe here, so I dont have to go digging for it later!
Ingredients
Dough Mixture:
4 eggs
6 ounces sugar
1 teaspoon fine salt
2 cups milk, lukewarm
4 ounces margarine
8 cups all-purpose flour, divided
2 tablespoons yeast
Filling:
4 ounces margarine
2 cups brown sugar
3 tablespoons ground cinnamon
1 cup pecans, chopped
Icing:
4 cups powdered sugar
4 ounces margarine
1 cup milk
1 tablespoon almond extract
Directions
In a large mixing bowl beat the eggs, sugar, and salt for the dough mixture. Combine the warm mile and margarine and add to the egg mixture. Slowly add 4 cups flour and beat well. Add the
yeast
and mix thoroughly. Add the remaining 4 cups flour and mix on medium speed for 7 minutes. Place the dough in an oiled bowl and cover with
plastic wrap
. Let the dough rise to double its size, about 1 hour.
Roll the dough into a 1 1/2 by 2-foot rectangle.
For the filling:
Spread 4 ounces of
margarine
over the dough and sprinkle entire surface with brown sugar, cinnamon, and chopped pecans. Roll the
dough
into a cylinder shape starting with the bottom edge, and then cut into 12 slices. Place the slices onto an oiled pan and bake at 350 degrees F for 15 minutes. Cool and cover with icing.
For the icing:
Stir all ingredients until thoroughly combined.